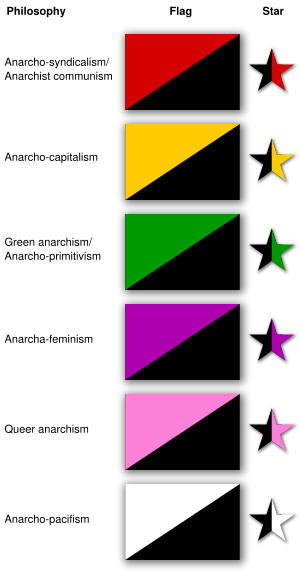 Various schools within the anarchist movement have adopted their own flags, colours and neckerchiefs. These flags are bisected diagonally with the right half in black for anarchy and the left half in a color representing each school's ideas. These color templates are also extended to five-pointed stars representing the same schools.
The
red-and-black flag
is the symbol of the
anarcho-syndicalist
and
anarcho-communist
movements. Black is the traditional color of anarchism, and red is the traditional color of socialism. The red-and-black flag combines the two colors in equal parts, with a simple diagonal split. Typically, the red section is placed on the top-left corner, with the black on the bottom-right corner of the flag. This symbolizes the co-existence of anarchist and socialist ideals within the anarcho-syndicalism movement, and to symbolize the more socialistic means of the movement leading to a more anarchistic end.
The
black-and-yellow
or
black-and-gold
flag is used by
anarcho-capitalists
and other
market anarchists
. The yellow is intended to symbolise
gold
, a
commodity of exchange
often used in marketplaces unrestricted by state intervention. The flag was first used in public in Colorado in 1963 at an event organised by
Robert LeFevre
.
The
black-and-green
flag is used by
green anarchists
and
anarcho-primitivists
. It is generally taken to symbolize a vision of anarchism that focuses on the self-determination of all forms of life (animals, humans, bioregions) and not just humans, hence the green.
The
black-and-purple
flag is used in association with
anarcha-feminism
, as is the
black-and-pink
flag, although the latter is more closely associated with
queer
anarchists. Unlike other bisected anarchist flags, it does not necessarily represent another form of anarchism, but is used to focus on opposition to the hierarchical patterns of
heterosexism
,
sexism
,
transphobia
, and
patriarchy
.
The
black-and-white
flag is used by anarcho-pacifists and, to a lesser extent, Christian anarchists.